Steamed Chinese Dumplings (Shu Mai)
From Season 11: Asian Favorites at Home
Why this recipe works: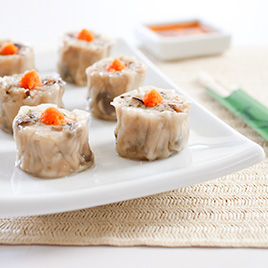 Every so often we'll land on an exemplary version of shu mai (steamed Chinese dumplings)—one that boasts a tender, thin skin and a moist, flavorful filling. Our goal was to replicate this version at home.
Our favorite restaurant dumplings rely on coarse-ground pork and shrimp. We started with the pork. To ensure proper flavor and texture, we chose to chop the pork (boneless country-style ribs) in a food processor rather than relying on supermarket ground pork. Supermarket ground pork is often inconsistent—some packages can be lean, while others are riddled with fat and the grind itself is never consistent; one package could be almost pastelike while another might contain visible chunks of meat and fat. To prevent the meat from drying out during steaming, we mixed in a little powdered gelatin dissolved in soy sauce. As for the shrimp, we added that to the food processor, too. Dried shiitake mushrooms, minced cilantro, fresh ginger, and water chestnuts were just a few of the ingredients we relied on to round out our flavorful filling.
For our dumpling wrappers, we chose widely available egg roll skins and cut them into rounds with a biscuit cutter. Once we added the filling and gathered the edges of the wrappers up around each one, we steamed our dumplings in a steamer basket. Served with a hot chili sauce, our dumplings were full-flavored and virtually foolproof. (less)
Every so often we'll land on an exemplary version of shu mai (steamed Chinese dumplings)—one that boasts a tender, thin skin and a moist, flavorful filling. Our goal was to replicate this versi...(more)
This video segment is not yet available. Each new episode is available to AmericasTestKitchen.com members as soon as it first airs on public television and is available two weeks later for free viewing by nonmembers.
Makes about 40 dumplings, serving 6 to 8 as an appetizer
Do not trim the excess fat from the ribs; it contributes flavor and moistness. Use any size shrimp except popcorn shrimp; there's no need to halve shrimp smaller than 26 to 30 per pound before processing. The dumplings may be frozen for up to 3 months; cook them straight from the freezer for about an extra 5 minutes. Read about our favorite steamer basket in related testing. To jury-rig one, follow the instructions in related How to Cook. For more options on wrappers, see related How to Cook. Serve shu mai with store-bought chili oil or make your own (see related recipe).
Ingredients
· 2 tablespoons soy sauce
· 1/2 teaspoon unflavored powdered gelatin
· 1 pound boneless country-style pork ribs , cut into 1-inch pieces
· 1/2 pound shrimp , peeled, tails removed and halved lengthwise (see note)
· 1/4 cup water chestnuts , chopped
· 4 dried shiitake mushroom caps (about 3/4 ounce), soaked in hot water 30 minutes, squeezed dry, and cut into 1/4-inch dice
· 2 tablespoons cornstarch
· 2 tablespoons minced fresh cilantro leaves
· 1 tablespoon toasted sesame oil
· 1 tablespoon Chinese rice cooking wine (Shaoxing) or dry sherry
· 1 tablespoon rice vinegar
· 2 teaspoons sugar
· 2 teaspoons grated ginger
· 1/2 teaspoon table salt
· 1/2 teaspoon ground black pepper
· 1 (1 pound) package 5 1/2 inch square egg roll wrappers (see note)
· 1/4 cup carrot , finely grated (optional)
Instructions
1.

Combine soy sauce and gelatin in small bowl. Set aside to allow gelatin to bloom, about 5 minutes.

2.

Meanwhile, place half of pork in food processor and pulse until coarsely ground into approximate 1/8-inch pieces, about ten 1-second pulses; transfer to large bowl. Add shrimp and remaining pork to food processor and pulse until coarsely chopped into approximate ¼-inch pieces, about five 1-second pulses. Transfer to bowl with more finely ground pork. Stir in soy sauce mixture, water chestnuts, mushrooms, cornstarch, cilantro, sesame oil, wine, vinegar, sugar, ginger, salt, and pepper.

3.

Divide egg roll wrappers into 3 stacks (6 to 7 per stack). Using 3-inch biscuit cutter, cut two 3-inch rounds from each stack of egg roll wrappers (you should have 40 to 42 rounds). Cover rounds with moist paper towels to prevent drying.

4.

Working with 6 rounds at a time, brush edges of each round lightly with water. Place heaping tablespoon of filling into center of each round. Following illustrations below, form dumplings, crimping wrapper around sides of filling and leaving top exposed. Transfer to parchment-lined baking sheet, cover with damp kitchen towel, and repeat with remaining wrappers and filling. Top center of each dumpling with pinch of grated carrot, if using.

5.

Cut piece of parchment slightly smaller than diameter of steamer basket and place in basket. Poke about 20 small holes in parchment and lightly coat with nonstick cooking spray. Place batches of dumplings on parchment liner, making sure they are not touching. Set steamer over simmering water and cook, covered, until no longer pink, 8 to 10 minutes. Serve immediately with chili oil.
Technique

1. BRUSH AND FILL
Brush wrapper edges lightly with water. Place heaping tablespoon of filling in center.
2. PINCH AND ROTATE
Pinch opposite sides of wrapper. Rotate 90 degrees and repeat. Continue until you have eight equidistant folds.
3. SQUEEZE
Gather sides of shu mai and squeeze gently at top to
create "waist."
4. PACK
Hold shu mai in your hand and gently but firmly pack down filling with butter knife.
Technique
Authentic shu mai may taste great, but they contain inaccessible—and, in some cases, unappealing—ingredients. For our recipe, we kept the best of those elements and found readily available, more healthful substitutes for the others.
Restaurant Way
Fatback + Lard
Restaurant chefs pack their shu mai with fat to create rich flavor and succulent texture.
MSG
This flavor-boosting additive is key to the ultra-savory flavor in many Chinese dumplings.
Chinese Black Mushrooms
These contribute rich, earthy flavor but are not available in most American supermarkets.
Our Way
Gelatin
Gelatin mimics the luxuriant effect of fat and helps the meat retain its juices.
Soy Sauce + Rice Vinegar + Rice Wine
Liberal doses season our filling without synthetic enhancers.
Shiitake Mushrooms
Dried, reconstituted shiitake mushrooms replicate the hard-to-find Chinese variety.
Related Content